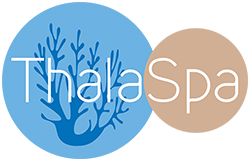  
Draining active cream
Firming - Draining - Stimulating
Texture : Creamy cream
Recommended for normal skins
Firms and tones up the skin
Promotes the release of fats
Encourages the elimination of toxin

The fine texture of the Draining active cream ensures a quick absorption of the active ingredients. Composed of micronized algae and essential oils, our formula has a unique wealth whose active ingredients act upon several aspects : the elimination of toxins and fats storage as well as improvement of blood circulation
Ingredients
Brown alga belonging to Fucales family, known as Fucus vesiculosus, its scientific name, the fucus is an alga that is found in abundance along Breton coasts.
Fucus grows on rocky supports and becomes visible at low tide. Attached to the rock thanks to its tendrils, it forms tufts of band-shaped blades (thallus), which splits into two parts that float on water thanks to bladders full of air serving as floats.
In some Asian countries such as Japan, this alga is part of local food.
Famous for its slimming action, it is a great source of vitamins, minerals and trace elements.
Fucus greatly stimulates the body and therefore helps fight against tiredness.
It also has stimulating and draining properties due to its zinc, iron and iodine content.

Tonic and purifying, the lemon essential oil releases a fine and fruity fragrance.

Well-known for its fortifying and purifying properties, cinnamon essential oil is also known for its antifungal and antiviral properties.

Regenerative and repairing, lavender essential oil has a soothing and sedative action. It promotes the elimination of nervous tensions, migraines and muscle pains.

The cajuput is a wildly growing plant found in Far East, Indonesia and Australia. Cajuput oil has stimulating properties.

The Niaouli is a tree originally from New Caledonia, belonging to the Myrtaceae family. Energizing essential oil, it is well-known for stimulating body's natural defences and for having a strong bactericidal and antiviral action. It is also used for its nerve tonic properties.
Directions for use
Apply the Draining active cream concentrating on problem areas (legs, stomach, chest) until complete absorption.

Not suitable for pregnant or lactating women.
Ingredients
AQUA, CETEARYL ALCOHOL, FUCUS VESICULOSUS POWDER, CINNAMOMUM CASSIA LEAF OIL, CINNAMAL, PHENOXYETHANOL, CITRUS LIMON PEEL OIL, LAVANDULA ANGUSTIFOLIA OIL, MELALEUCA LEUCADENDRON CAJUPUTI LEAF OIL, MELALEUCA VIRIDIFLORA LEAF OIL, LIMONENE, SODIUM CETEARYL SULFATE, SODIUM LAURYL SULFATE, PEG-35 CASTOR OIL, ETHYLHEXYLGLYCERIN, COUMARIN, LINALOOL, CITRAL, GERANIOL, EUGENOL, CINNAMYL ALCOHOL, ACETIC ACID, BENZYL BENZOATE, CITRONELLOL, TOCOPHEROL