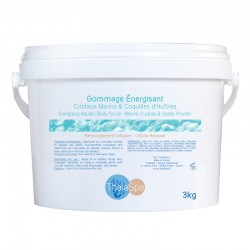 Actives
Sea salt is a natural exfoliant for the skin. It contains countless minerals that are healthy and excellent for the skin, salt contains potassium, iodine, calcium, iron, and zinc.

Sugar is a gourmet exfoliant, it removes efficiently dead cells and cleans the skin from its impurities, making the skin soft and smooth.

Originally from Persia and Kashmir, the Jasmine flower is called « the queen of the night » because it fills with its fra-grance as soon as the sun goes down. Antioxidant, the Jasmine restores skin vitality and helps pre-vent the effects of ageing.
Directions for use
Apply to a slightly dump skin, massage manually or using a massage glove with circular motions, then rinse thoroughly with water.
Ingredients
SEA SALT, AQUA, GLYCERIN, SUCROSE, XANTHAN GUM, PEG-7 GLYCERYL COCOATE, JASMINUM OFFICINALE EXTRACT, PROPYLENE GLYCOL, PARFUM, LINALOOL, BENZYL SALICYLATE