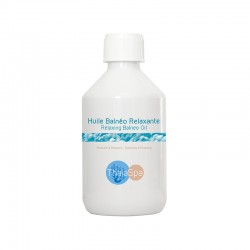 Actives
The rosemary essential oil stimulates the blood circulation and reduces the orange peel.


The peppermint essential oil stimulates and invigorates the body. It also acts as a stimulant.

The lavender essential oil acts on the cutaneous repair, the tonicity and promotes the muscular decontraction.



Directions for use
Spread 10 to 15 drops of Tonic Balneo Oil in the bath water.
The active ingredients from the essential oils spead immediately and intensely perfume the bath.
Not suitable for pregnant or lactating women.
Do not apply directly to the skin - For adults only


Ingredients
ALCOHOL DENAT., ROSMARINUS OFFICINALIS STEM OIL, MENTHA PIPERITA OIL, LAVANDULA ANGUSTIFOLIA OIL, LIMONENE, LINALOOL, CITRAL, GERANIOL, EUGENOL, CITRONELLOL, COUMARIN