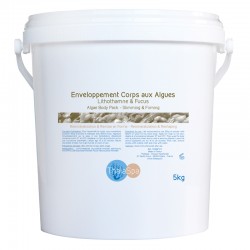 Actives
Formed over a millions of years, this clay deposit, rich in seawater, is particularly enriched in minerals and trace elements. It is an ideal mineral resource.
Soft to the touch thanks to its extra fine composition, the sea clay is harvested and filtered in order to extract sandy or fossilized particles.
Our 100% environmentally responsible clay comes from a natural extraction area in line with our sustainable development policy.

Harpagophytum is a plant that grows in Kalahari Desert and in East Africa.
Its roots are rich in well-known anti-inflammatory and analgesic actives.
The use of harpagophytum in the treatment of arthrosis, rheumatisms, and others joint pains is universally recognised.

Regenerating and restorative, lavender essential oil is soothing and sedative. Its promotes the elimination of nervous tensions, migraines and muscular pains.
| | | |
| --- | --- | --- |
| Trace elements and Minerals of which : | 81 030 mg/kg | Essential components to the healthy functioning of the organism which however does not know how to make them. They must therefore be provided by the diet or topically (transcutaneous passage during thalassotherapy treatment) |
| Potassium | 7 462 mg/kg | Essential to the functioning of the cells, to the use of carbo-hydrates by the organism and to the transmission of the nerve messages. |
| Iron | 14 502 mg/kg | Essential to the transport of oxygen and to the formation of red blood cells in the blood. |
| Magnesium | 11 387 mg/kg | Essential to muscular contraction and transmission of nerve impulses. |
| Calcium | 27 605 mg/kg | Essential to bone strength and to muscle and nerve cells functioning. |
Directions for use
For single use, the Tonimarine is applied directly to the skin ideally at a temperature of between 37° and 41° C for a minimum of twenty minutes.
For an application all over the body, a thin layer is enough - 600 to 850 g of Tonimarine
In a localised application for joint problems, apply the paste to the area to be treated in a 2 cmthick layer, which is about 300 g of Tonimarine
After the treatment, the person takes a shower and takes a rest period.
Not suitable for pregnant or lactating women.
Ingredients
MARIS LIMUS EXTRACT, AQUA, GLYCERIN, PHENOXYETHANOL, CAPRYLYL GLYCOL, LAVANDULA ANGUSTIFOLIA OIL, HARPAGOPHYTUM PROCUMBENS ROOT EXTRACT, PROPYLENE GLYCOL